Belfast man charged with a series of burglaries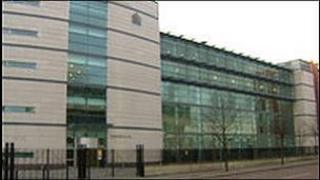 A teenager appeared in court on Monday accused of stealing a car, large quantities of jewellery and computers in a series of burglaries in Belfast.
Richard McAleese also allegedly took phones, games consoles, concert tickets and an iPod during four separate break-ins last month.
The 19-year-old, of no fixed address, was remanded in custody after making no bail application.
Mr McAleese is charged with four counts of burglary between 3 and 26 April.
He is also accused of taking a car without the owner's consent during the most recent incident.
That charge relates to the theft of a Renault Megane and other belongings from a house at Ravenhill Avenue.
Another property allegedly targeted was in Ava Street, where a laptop computer, mobile phone and beer were among the items taken.
Mr McAleese is also accused of breaking into a house on Orangefield Crescent and stealing a large amount of jewellery and money.
More jewellery, watches, computers, games and consoles were allegedly seized from a fourth address on the Beersbridge Road.
An investigating police officer said Belfast Magistrates' Court could connect the suspect with all charges against him.
Defence solicitor Niall O'Neill did not question or seek bail for his client.
Mr McAleese was remanded in custody, to appear again via video-link in one week.