Lord Rana's Ramada Hotel 'racism' tribunal opens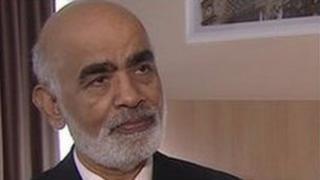 An industrial tribunal has opened in Belfast after a hotel manager alleged his boss consistently favoured Indian members of staff and subjected him to unfair treatment.
Claimant Scott Bauman, a former general manager originally from America, had worked at the Ramada Hotel in the city.
The hotel is run by Andras House, which is owned by Lord Diljit Rana.
Mr Bauman alleges that he was bullied. He was made redundant in April 2010.
On Monday, the tribunal heard the opening arguments and the beginning of Mr Bauman's evidence.
The tribunal is scheduled for two weeks and Lord Rana is due to appear on Friday.