Double killer Tony Doherty can challenge bouncer rules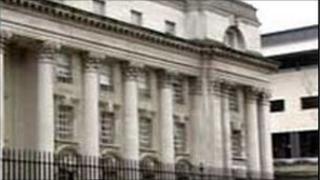 A convicted double murderer has won High Court permission to challenge regulations which currently stop him gaining a licence to work as a bouncer.
The challenge was taken by Londonderry man Tony Doherty.
He was granted leave to seek a judicial review of eligibility criteria he said breaches his expectations as a prisoner freed under the Good Friday Agreement.
Doherty was freed in 2000 after serving time for more than 70 terrorist-related offences.
They included the murders of loyalists Cecil McKnight and Gary Lynch, in Derry in 1991.
On Tuesday, a judge held that an arguable case had been advanced on a further legal point that the rules are irrational because they allow a convicted murder to be considered for a permit before those jailed for lesser offences.
A full hearing of the case, which could have implications for others who cannot apply for the permits, has been listed for next month.
Following his release Doherty had worked as a doorman until new licensing requirements for security industry staff were extended to Northern Ireland.
Under rules overseen by the Security Industry Authority convicted offenders cannot immediately qualify for a licence.
Lawyers for Doherty, whose name was given as Antaine O'Dochartaigh in High Court papers, are challenging regulations which delay his eligibility on the basis of his lesser convictions.
It was argued that if he had served time for murder alone he could have been considered for a licence in 2009.
But because Doherty was also given a 15-year sentence for other offences he must wait five years after that term to demonstrate he can be trouble-free in the community.
His barrister, Christopher Coyle, contended in court that it was irrational and made no sense to penalise Doherty more harshly for the lesser offences.
He also argued there was a legitimate expectation that his client would not be treated as an ordinary criminal under the terms of the Good Friday Agreement.
Mr Coyle claimed there had been a commitment to reintegrate people like Doherty back into the community rather than focus on conflict-related convictions.
After considering the further arguments the judge, Mr Justice Treacy, said: "I'm minded to grant leave and propose to grant leave to the proposed amendment."
He fixed the case for a full judicial review hearing on 29 June.