Lough Erne owner Jim Treacy angered by bank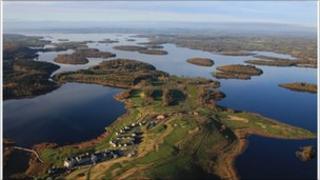 The owner of the Lough Erne Golf Resort near Enniskillen has hit out at the bank which placed it into administration last week.
Jim Treacy owes the Bank of Scotland Ireland (BoSI) £25m. On Tuesday night Mr Treacy met the Enterprise Minister Arlene Foster to discuss the situation.
Mr Treacy said: "I brought this place up from absolutely nothing..
"I developed the site, brought stars like Nick Faldo and Rory McIlroy and £20m of net borrowing is not a lot."
Earlier in the week the former tourism minister Ms Foster said the Lough Erne should be sold as a going concern.
The hotel - which is a major employer in Fermanagh - was placed in administration on Thursday.
The five star hotel and golf resort opened in October 2007, but has been in financial difficulties.
Mr Treacy is a successful retailer with businesses on both sides of the border.
Some of the borrowings relating to the resort are secured on Mr Treacy's main retail business, a Supervalu at Churchtown in Dublin.
It means he could now face losing control of that too.