Car of PSNI officer's father is attacked in Derry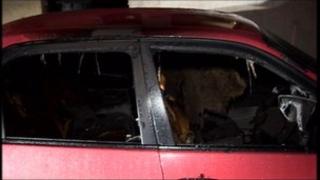 A car belonging to the father of a serving Catholic police officer from the Brandywell area of Londonderry has been destroyed in a petrol bomb attack.
It happened outside the home of former deputy mayor of Derry, Liam Bradley.
The device was thrown into the vehicle on Lone Moor Road at about 2130 BST on Tuesday.
Mr Bradley's home has been targeted on a number of occasions by dissident republicans.
His daughter Kathleen said it was frightening for the family.
"This is one of many incidents that have happened to my parents because my brother is a policeman," she said.
"There have been attempted petrol bombings and shots fired at the house. There's a constant threat and you just don't know what these people are capable of. They have no morals or standards whatsoever.
"I don't see how actions like this are going to be progressive for their cause at all."
Local Sinn Fein councillor, Colin Kelly, who was at the scene on Tuesday evening, condemned the attack.
"It's a new low when you attack two pensioners in their house," he said.
"Two weeks ago, the vast majority of people in Derry voted against this type of stuff. The community is against it and will be rallying around each other."