Man picks up suspect object in Derry alert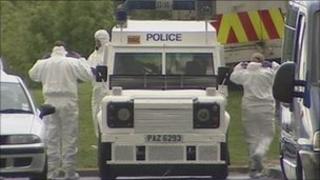 A man has picked up a suspicious object which sparked a security alert in Londonderry.
It was found on Southway in the Creggan estate at about 1030 BST on Wednesday close to where a hand grenade was thrown at police last week.
Army technical officers were called in to examine the object which was declared a hoax.
The man who picked it up said it didn't look like a viable device.
"I looked and saw wires hanging out of a tube and tape around it. It didn't look to be dangerous because the wires weren't connected to anything so I ripped off the tape," he said.
"The police came around the corner and I set it back down on the ground again."
The alert followed the hijacking and burning of a car and van in the area on Wednesday morning.
Cowards
PSNI Chief Inspector Jon Burrows described those responsible as "cowards".
"Police officers are standing in Southway today where they nearly lost one of their colleagues last week in a grenade attack," he said.
"They are displaying courage and protecting the public and that's in contrast to the cowards who left it there."
Chief Inspector Burrows also warned the public not to touch suspicious objects.
"We've seen a large number of viable pipe bombs and devices in this city and these things can do serious harm and they can kill.
"People should not be picking up these objects. If there's a suspicious object call the police and let us deal with it," he said.