Car 'hit with hatchet and pitchfork in Tyrone feud'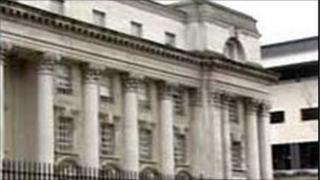 A car was attacked by men armed with a hatchet and pitchfork as part of a suspected feud between County Tyrone families, the high court has heard.
Every panel of the car was hit as the owner was allegedly threatened with being killed, the prosecution said.
A judge was also told the windows of a house at Windmill Court, Dungannon were smashed up as part of a suspected tit-for-tat series of violence.
Details emerged as bail was denied to one suspect.
Noel Cawley, 22, of Granville Road, Dungannon, faces charges of threats to kill, criminal damage, and possession of an offensive weapon in a public place in connection with trouble which broke out last Saturday.
It was claimed that Mr Cawley attacked the Audi car with a hatchet while a co-accused used a pitchfork.
Crown counsel Kate McKay said up to 30 strike marks were detected on the vehicle, some several inches long and perforating the bodywork.
She said the owner told police he feared an alleged threat to kill him would be carried out.
Mr Cawley was later arrested and an axe found on waste ground near his home submitted for forensic examination.
'Family feud'
Mrs McKay added: "It's effectively a family feud which has been going on for some time.
"The applicant lives only three minutes from the complainant in this case, and there are concerns that there could be re-offending."
Neil Rafferty, defending, claimed the dispute was between his client's co-accused and another man with alleged to have links to drugs.
The barrister argued that Noel Cawley was not initially involved and pointed out that another car was wrecked before the Audi was targeted.
"Unfortunately this seems to be one of those tit-for-tat things that has come to the attention of police," he said.
Refusing bail, Lord Chief Justice Sir Declan Morgan stressed that the public living in the area needed to be protected.
He said: "If this applicant were released on bail he and/or others would be tempted to become involved in settling whatever scores are to be settled in this matter."