Tough choices facing new Health Minister Edwin Poots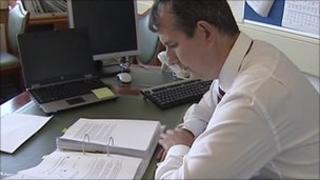 Northern Ireland's new health minister says he's considering charging people who miss their hospital appointments as a way of generating much needed cash for the health service.
According to Edwin Poots, in order to meet the £200m shortfall in this years budget, the public may have to accept some very difficult decisions.
Speaking to the BBC's Hearts and Minds programme, the minister said there are lots of options on the table, including introducing car park charges in all local hospitals.
The minister added that he won't shy away from implementing them.
"Does this include charging people for missing their hospital appointment or for cancelling?" he said.
"I think it's a reasonable enough argument, as is charging for car-parking in all hospitals. These are the sorts of issues that need to be looked at and addressed and that's what I am doing."
The minister is faced with a raft of difficult decisions.
'Mammoth task'
From potential closures of hospitals and accident and emergency units, to deciding how health care can be delivered to the elderly.
"It's a mammoth task, but I don't intend to sit on my hands," he said.
"I intend to be an active minister, to get out there and meet the doctors, nurses, patients, and I will not shy away from making decisions, sometimes controversial, as ultimately it will deliver a better health service."
Surrounded by large black ring binders bursting with health service facts and figures, sitting in his new office, Edwin Poots is genning up on his brief that's not without controversy.
Reading the McKinsey report while sitting at his desk, the minister said everything was up for discussion.
McKinsey, is a hard-hitting consultancy document, commissioned by the Health and Social Care Board, which suggests cutting, charging and consolidating services.
"Ultimately the buck stops here. I will be consulting as many groups as I can and hopefully logical and sensible decisions can be reached, but I'm not sure everyone will agree," Mr Poots said.
When Mr Poots' ministerial appointment was announced on Monday, it was also revealed that he would remain in the post for just two years, with the ex-chairman of the health committee and fellow DUP MLA, Jim Wells taking over.
Tough decisions
In response to being asked if it would be a bad cop, good cop relationship, the minister admitted he'd probably been given the short straw.
"I expect I will have to take the tougher decisions, identifying the measures which will make long-term savings. No doubt Jim Wells will walk in when all the nice things will happen, but that is life, I'll just get on with it," he said.
In complete contrast to his predecessor, Mr Poots did not shy away when asked if he was the minister to close hospitals, in particular accident and emergency units.
It's well documented that Northern Ireland has too many larger acute hospital sites, with just six being the favoured number.
"We are prepared to do that. Now I don't want people to be in a blind panic thinking their local hospital is to be closed, each individual case will be looked at.
"But if it means that we can actually reduce emergency operations on one site and have only elective surgery instead, well that might happen.
"Not only am I prepared to take those decisions, but those are the decisions I should be taking as health minister to improve our health care system," he said.
So far Mr Poots has been non-committal about the Altnagelvin Radiotherapy Unit and whether he will reverse the decision not to go ahead with its opening in 2015.
However, he has spent a lot of time this week with those caught up in the decision, including patients and cancer specialists.
While Mr Poots will not want to be seen making a knee-jerk decision, it's difficult to see how his final decision will not be swayed by the face to face meetings he's been having with cancer patients.
"I think it's very difficult for those patients who have to make that trip from Londonderry to Belfast," he said.
"One patient described the seven-hour trip during the snow when the GlenShane Pass wasn't open.
"That is unfair for those patients, politics shouldn't come into how the decision is reached, that's not what I am about, instead I have to arrive at a considered decision based on good quality information."
The minister's announcement on the Altnaglevin Radiotherapy Unit could be made as early as next week.
The minister's interview with the Health Correspondent, Marie-Louise Connolly can be seen on the Hearts and Minds programme on BBC 2 at 1930 BST on Thursday.