RIR parade through Ballymena after Afghanistan return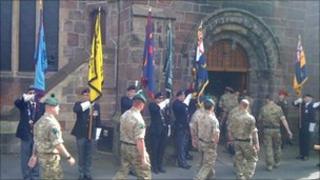 About 200 Royal Irish Regiment soldiers will parade in Ballymena on Friday evening.
The troops are being welcomed home from their tour in Afghanistan and exercising their freedom of the borough.
The town's mayor, Maurice Mills, will address the parade which will be led by the regimental band.
It is the first in a series of parades in NI for the RIR. However, an offer to march in Belfast was declined.
The Ministry of Defence said it had turned down the offer from Belfast City Council due to "post-operational duties".
There were protests at a previous parade in 2008.
On Saturday, Lisburn City Council is to meet in special session to confer the freedom of the city on the RIR and the regiment will then parade through the city.
The following day the RIR will gather at St Anne's Cathedral in Belfast for a thanksgiving and remembrance service.
Soldiers from the 2nd Battalion TA who also served in Afghanistan will exercise the freedom of Castlereagh in a parade the following weekend, before moving to Hillsborough Castle for a ceremony with their families and friends in order to receive their medals.
‪