Radiotherapy unit decision due on Monday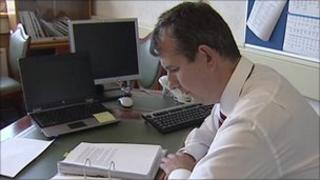 The health minister is expected to announce on Monday if he will give the go-ahead for a new radiotherapy unit to be built at Altnagelvin Hospital in Londonderry.
Edwin Poots is expected to tell the assembly his plans after consulting with patients and cancer specialists.
The former Health Minister, Michael McGimpsey, had said there were no funds to run the unit.
Mr Poots said his decision would be based on good quality information.
"I don't believe that it is in the interests of anyone to drag this out," he said.
"I will certainly be taking a non-partisan, non-political decision when it comes to this.
"It will be purely based upon health care."
Personal stories
When Mr Poots was appointed health minister on Monday he said the radiotherapy decision at Altnagelvin Hospital was a priority.
Since then, he has visited both patients and staff in Londonderry and at the cancer centre in Belfast.
The minister told the BBC that he had been touched by the stories of cancer patients, particularly those who have had to travel seven hours to receive their treatment, when they could not cross the Glenshane Pass during adverse winter conditions.
There was a public outcry when the former minister announced in March that there were no funds to run the unit.
The satellite radiotherapy unit at Altnagelvin Hospital had been due to open in 2015.
It would have eased life for cancer patients who currently make the long trek to Belfast for treatment.