No A5 decision until after public inquiry - minister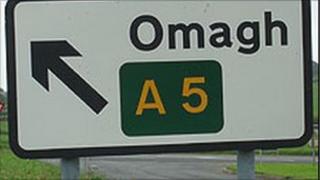 The transport minister, Danny Kennedy, has said he will not make a decision on the new A5 road between Londonderry and Aughnacloy until after a public inquiry.
The Roads Service has confirmed £35m has been spent on "project development" for the 85km dual carrigeway.
It's the largest road scheme ever undertaken in Northern Ireland and is expected to cost £850m.
The Irish Government has committed almost £400m to the project.
Danny Kennedy said it was a "significant priority" but it was important to get value for money.
"There is no doubt that a scheme of some kind will be brought forward in terms of both the A5 and A8," he said.
"The A5 scheme is now subject to an independent public inquiry and I'm not going to predetermine the outcome of that.
"I will await with interest the final report which is due out in a number of months and then consult my own departmental officials and the Irish government over how this scheme will be brought forward."
The public inquiry started in May and is expected to be completed this summer.
Danny Kennedy says he won't be "stampeded" into a decision.