Colin Howell and Hazel Stewart assets case withdrawn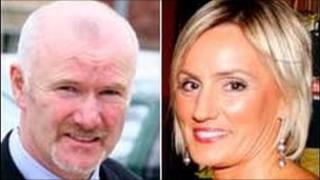 Confiscation proceedings against double killers Colin Howell and Hazel Stewart have been formally withdrawn.
The pair are currently serving life sentences for the murder of their respective spouses.
No details as to why the applications were not being proceeded with, or what assets of Stewart's were being sought, were given at Antrim Crown Court.
A previous court hearing had heard the Crown was seeking to seize Howell's worldwide property portfolio.
Mr Justice Hart was told that the father of 10 had indicated, in papers given to the prosecution, that he had assets around the world from America to Asia.
Howell pleaded guilty to the murders of his wife Lesley and Stewart's husband Trevor Buchanan in November 2010, while Stewart was convicted in March of this year.
While she maintains her innocence, Howell admitted that he gassed his wife in their marital home before travelling to the Buchanan home where he gassed his lover's husband while he slept before putting their bodies into a car in his late father-in-law's garage and making to look like a suicide pact.
The former dentist has also admitted to a series of indecent assault charges committed against women between March 1988 and October 2008 after he drugged them in his dentist's chair and then molested the six women.
Howell is due to be sentenced for those crimes next week.