Garda Jonathan Gallagher in River Boyne rescue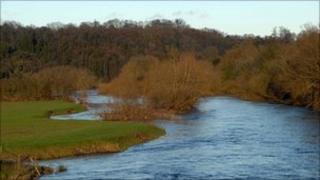 An Irish police officer has rescued a drowning man from the River Boyne, despite having a fear of water and being unable to swim.
Jonathan Gallagher, 26, who is origanlly from Londonderry, was responding to an emergency call from a taxi driver in Drogheda on Wednesday.
Before the man could be taken by the current, Mr Gallagher dived in to rescue him and pull him to safety.
Drogheda police have nominated Mr Gallagher for a bravery award.
Witnesses said the rescued man had been sitting on a wall looking into the river before he suddenly disappeared.
Spotting a head in the water, they asked a group of taxi drivers to radio in for help.
Beyond the call
When Mr Gallagher arrived at the scene to find a man in severe distress and calling for help, he decided to go in.
Although unable to swim, he relied on his police water emergency training to keep himself afloat and drag the man to the river bank.
Patrick McGee, chief superintendent of the Drogheda police, praised Mr Gallagher's "fantastic" actions.
"It's certainly beyond what's needed in the line of duty. It's bravery at its best."
Mr Gallagher is currently on duty for the last day of the Queen's visit to Ireland, but Chief Supt McGee said he will no doubt receive a hero's welcome on his return.
"Certainly there will be lots of hand shaking and back slapping," he said.