Tourist compares Portrush to Beirut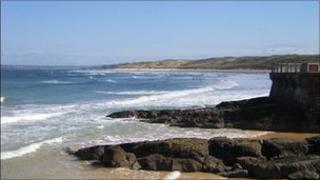 A bed and breakfast owner in Portrush has said derelict buildings in the seaside town are driving away tourists.
Victor Bowe said a Dutch tourist who comes over for the North West 200 races every year brought home to him how run-down the town has become when he compared it to Beirut.
"'Look' he said, 'this is like Beirut. Look at that building at Metropole Corner' - he was referring to the old Metropole House which was burnt about two years back now.
"Whenever he said that it did make me sit back and think, the rest of the town's not much better to be honest," he said.
"The main street, buildings that were there were burnt and have been knocked down.
"That is the perception of a lot of people that Portrush has become a very run down place."
Mr Bowe said he had logged onto the website Trip Advisor to see people's views about Portrush.
"If you go into it and read about Portrush, people say 'yes the north coast is a lovely area, it's a pity about run-down Portrush,'" he said.
"Portrush used to be known as the jewel in the crown for the tourist industry, but I don't think it's that any longer."
Norman Hillis, the mayor of Coleraine Borough - which includes Portrush - and who runs a business in the seaside town, said he shared Mr Bowe's concerns.
"Things could be dramatically better, but unfortunately we're in tough economic times," he said.
'Greed'
"A lot of developers have bought properties, probably to put in apartments or maybe shops below apartments and now they find themselves virtually broke.
"In my view we're suffering badly from developer greed."
He said the number of derelict buildings was a major talking point on doorsteps during the assembly and council elections.
"We are endeavouring to take action here - it's really high on the council's agenda.
"Obviously we don't want to have comments like the town's looking like Beirut," he said.
"We can do our bit in the council - we can take control of the ground that we own, but we can't make people knock their building down or build something.
"I would love that to change. We feel powerless and we are getting the criticism."
He said the council was taking a test case against one property owner to get them to tidy up their premises and if this was successful more could follow.