Malnourished pony set on fire in Keady, County Armagh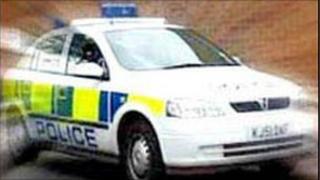 A pony has been set on fire in Keady, County Armagh.
The incident, in the Annvale Road area, was reported to police at about 2120 BST on Thursday.
A member of the public put the flames out and tended to the pony until a vet arrived. The pony was malnourished and suffered burns.
The vet who treated it said it might be able to recover from its wounds, but it was too early to say.
"He was tethered on the side of the road, he did not have a chance to make his escape," Rebecca Cooper said.
"Hopefully the pony will make a recovery, but at this moment we will not be able to say how much damage was done.
"It is a lovely little pony, very quiet and docile, with a lovely temperament."
Police said its injuries would have been much more serious but for the actions of the person who quickly put the flames out.
"This was an horrific incident where an already malnourished animal was subjected to horrendous treatment," PSNI Inspector Nigel Graham said.
"I would like to thank the community member who treated the horse for their swift actions and quick thinking.
"We are very keen to trace the owner of the horse and we would also like to speak to a number of youths who were seen in the area around the time of this incident."