Construction firm Carvill Group in administration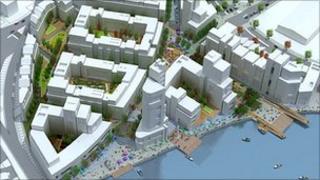 One of Northern Ireland's leading construction companies, the Carvill Group, is to go into administration.
In a statement the group said the Carvill Group Limited, Carvill (Scotland) Limited and Carvill (Newcastle) Limited would all be affected.
The Carvill Group was behind the proposed redevelopment of the Sirocco Works site in east Belfast.
It blamed the "adverse economic climate" for the move.
Group managing director Christopher Carvill said: "This is a sad day for all of us who have tried so hard to find an alternative solution.
"I would like to thank all of the creditors who supported our efforts in this regard and apologise that we have not succeeded.
"We are very hopeful that current projects in hand will continue to be developed during the course of the administration process. This should ensure that current employment levels will be maintained.
"However this will ultimately be a decision for the appointed administrators."
According to the Carvill Group's website, the family has been in the construction business since Patrick Carvill established a building firm in Warrenpoint, County Down, in the 19th century.
It has been involved in projects in Germany, as well as Northern Ireland, England and Scotland.