Gas cylinder 'risk' in BT van fire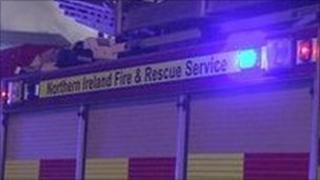 The Fire and Rescue Service has said a van targeted in an arson attack in Londonderry had a gas cylinder inside.
The BT vehicle was set on fire near homes in Joyce Court in Ballymagoarty at about 2330 BST on Thursday.
It was the fifth vehicle to be set on fire in the city this week.
Station commander, Paul Coyle, said the fire could have posed a major risk.
"Thankfully, the gas cylinder wasn't involved but it took us a bit of time to ascertain that," he said.
"We implemented the fullest safety precautions that we would normally do in a confirmed gas cylinder incident.
"Apart from the wanton destruction and cost that follows from such an incident the potential is that the gas cylinder could have become involved and posed a very serious risk in that environment."
He said arson attacks on vehicles must stop.
Destroyed
"We had a Tranlink bus completely destroyed on Monday night in addition to a van belonging to a local business," he said.
"We also had another van set on fire on Tuesday night and a private car destroyed on Wednesday night.
"If we're attending those incidents we can't be in two places at one time. It's obviously putting a drain on our resources not to mention the unnecessary risk it's posing to the public and our firefighters."