Paris and London recreated in NI for TV thriller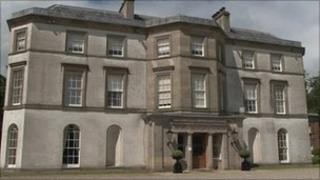 A new four-part thriller for BBC Television has been filmed around Northern Ireland, even though it is set in London and Paris.
The main star of "Undisclosed" is Philip Glenister, best known for his role as Detective Chief Inspector Gene Hunt in the 1970s based BBC Television series "Life on Mars" and its 1980s sequel "Ashes to Ashes".
The "Undisclosed" series, which will be broadcast on network television, is being made by BBC Northern Ireland as part of a policy to shift production away from London.
The producer, Christopher Hall, said he was initially concerned that he would have a problem finding locations to suit the script, but had been very pleased with what he had discovered, although he admited Paris was more difficult to replicate than the London locations.
"We have an artist's apartment which is in a warehouse district of central Belfast which we have dressed to look like a Parisian artist's studio."
Film location
Part of the filming has been going on at a stately home in Ballynahinch, County Down, used as the luxurious house for one character and also doubling as a five star hotel.
"There are great new locations in Northern Ireland and I believe these beautiful surroundings of the Montalto estate have never been used as a film location before," he said.
The variety of sites used range from Montalto, which represents the wealthy and powerful people in the script, to a Belfast street which doubles as a down-at-heel Kentish town in north London.
The ease of parking and getting around with truckloads of heavy equipment has been a big boost for both cast and crew.
They complain that in London it is much more difficult and costly, with long journeys between the film set and the base used for makeup, costumes and catering.
In Belfast, they've been surprised that distances are much shorter and there's a more flexible attitude from the Roads Service and police.
With crews and actors working long hours, easy access to their base is a big benefit.
Christopher Hall said: "The cost of locations is marginally cheaper in Northern Ireland, but here in Northern Ireland the cost of permissions to film and parking is much cheaper.
"So on balance it is less costly here."
Philip Glenister plays Harry Venn, a London solicitor in what's been described as a conspiracy thriller: "That means it's very complicated", he joked, "...and we don't understand a word of it."
This is his first time filming in Northern Ireland, working on a script written by local man Ronan Bennett.
"Everybody's been lovely, very hospitable and welcoming," he said.
"The great thing is they close the roads off for you here, that doesn't happen in London."
Car-chase
His co-star Thekla Reuten was in the movie "In Bruges", which starred Irishmen Brendan Gleeson and Colin Farrell.
Filming in a warehouse near Belfast docks, she was involved in a scene which features a car driving in front of the Harrod's store in London which could not be recreated in Belfast.
Instead they used a backdrop of a blank "green screen" which would eventually have shots of Harrods superimposed on it.
She said: "In this scene my character is in serious trouble and at Harrods. I really need help and I jump into this car to get away."
Thekla says she was told the weather in Northern Ireland would be wet and she brought the gear to suit, but in fact there was beautiful spring sunshine for most of the time.
The BBC said it has a target of making 50% of network programmes outside the London area by 2016 and is well on the way to hitting that target.
Jobs
"We have also pledged to spend more in the devolved nations - Scotland, Wales, Northern Ireland from 6% in 2007 to 17% by 2016," it said.
The increase in television and movie making in Northern Ireland, for instance "Your Highness" for Universal in the United States, and "Game of Thrones" for HBO, has led to more job opportunities for actors and technicians.
Richard Dormer, who plays Harry Venn's (Philip Glenister) friend.
"I play Frank Hanna, I'm a bit of a rough diamond and this is me dressed like a 'scummer'," he said.
"I think it's brilliant that Northern Ireland is attracting so much television and film production and long may it continue.
"There is plenty of work for the crew and nobody is grumbling. Everybody is working and everybody is happy."
He said there were also more actors being involved in projects like this, which was great for the industry.
The series is expected to be broadcast in four parts on BBC One at the end of 2011.