Court told of scrambler death accused suicide threat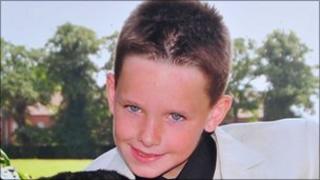 A man accused of causing the death by dangerous driving of a schoolboy has threatened to commit suicide, a court has been told.
Andrew Paul Morrow was arrested in connection with the death of Daniel Mooney.
The 12-year-old was on the back of Mr Morrow's motorbike when it crashed. He was not wearing a helmet.
The accident happened at Mountcoole Park in north Belfast on Sunday.
A lawyer said his client had taken Daniel for a ride because he was his favourite among a group of children.
The schoolboy died from head injuries sustained after falling from the bike he was riding pillion on.
A judge was also told the defendant had been in a state of shock when he allegedly left the scene of the fatal crash on Sunday.
Mr Morrow, a window cleaner from Ardoyne Road, Belfast, was refused bail amid police fears his release could ignite tensions in the area.
He faces a total of seven charges, including causing death by dangerous driving, driving a scrambler while disqualified, without insurance and while unfit through drink or drugs.
The 32-year-old, who was arrested two days after the crash, is further charged with failing to stop, failing to remain and failing to report an accident.
Apology
A detective sergeant investigating the case told Belfast Magistrates Court the accused was tearful and emotional throughout five interview sessions.
When charged Mr Morrow was said to have replied: "I'm terribly sorry for what happened."
It was disclosed that during questioning he claimed that prison "would put his head away".
The officer said Mr Morrow claimed he would commit suicide as a result of what had happened.
"If he is granted bail I don't believe his safety could be monitored," he told the court.
The detective expressed further concern that the accused could aggravate tensions by trying to make contact with Daniel's family to apologise.
Defence counsel Michael Boyd said his client had bought the scrambler two weeks ago to ride at circuits throughout Northern Ireland.
He told the court Mr Morrow had taken the bike over to his brother's house and been surrounded by a group of children, including Daniel.
Mr Boyd said: "Daniel was always the favourite of the applicant among these children. He had fixed Daniel's own quad bike previously."
The barrister said Mr Morrow decided to take the schoolboy for a ride up into the Cavehill area, accompanied by another scrambler rider.
Mr Morrow believed that as they were returning the other bike seemed to hit a bump on the road, crossed into his path and forced him to brake sharply, the court heard.
"What unfolded after that is somewhat of a blur to him," Mr Boyd said.
"He remembers seeing Daniel on the road. From that point on shock descended upon him."
It was claimed Mr Morrow urged a passer-by to phone an ambulance, but did not remember allegedly getting back on his bike and leaving the scene.
He is to deny the charge of causing death by dangerous driving.
Mr Boyd added: "This is clearly a tragic accident that has developed out of what looks like it might have been a harmless situation, taking this young man for a spin, albeit that he should never have been on the road."
District Judge Mervyn Bates refused bail.