A warm welcome for the Queen in the rebel county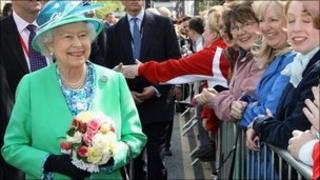 The warm sunshine in Cork meant many people left the shops and offices to take their lunch break outside.
Not many seemed to go back.
The Queen was due just after 1400 BST on Friday and at the barriers lining the route of her cavalcade, they waited three and four deep, clapping and cheering every passing motorbike that may have heralded her arrival.
When she finally did pass, they received her with a welcome normally reserved for All-Ireland champions, straining forward to get any kind of glimpse.
Then, the younger ones especially, peered into their mobile phones and digital cameras to see what had been recorded for posterity.
Above them, on top of the city hall, the union flag and the Irish tricolour fluttered together.
At the front of the building, a statue represented how significant that gesture was.
Terence MacSwiney was the Sinn Fein Lord Mayor of Cork during the War of Independence in 1920.
He was arrested by the British on charges of sedition and imprisoned in Brixton where he died after 74-days on hunger strike.
Cork is known as the 'rebel county' for its stiff resistance during that conflict.
On Friday, many of its citizens rebelled only against any notion that they should not extend the friendliest of welcomes.
They extended those welcomes for different reasons.
One woman said that she had only decided to come out when she saw the television pictures of the Queen in Dublin.
"I think the way she's conducted herself over the past few days has been a credit to her and a credit to England," she said.
Warm wishes
A teenager said seeing the Queen reminded her of being a little girl and wanting to be a princess.
"She's one of the most famous people in the world so it's good that she is here in Cork and we are able to see her."
The Queen seemed to instinctively want to reciprocate the warm wishes.
She undertook an apparently impromptu walkabout in the centre of the city, something security chiefs had warned was most likely not going to happen during this trip.
That it happened right at the end seemed a relaxation of the rules and indicative of how things had gone better than everyone had expected.
In her speech at the state dinner, the Queen, reflecting on events in Anglo-Irish history, said that "some things, in hindsight, should have been done differently, or not at all".
At this point, it seems extremely unlikely that this particular royal visit will ever fall into that category.