BBC's flagship building celebrates its 70th birthday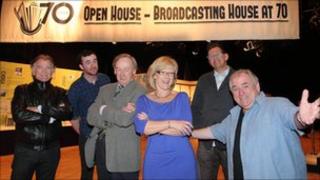 BBC Northern Ireland is opening the doors of Broadcasting House to the public to celebrate its 70th birthday.
Five days of events begin on Monday to mark the building's past, present and future.
Broadcasting House was opened with a low-key ceremony during WW2 on 5 May 1941.
To give visitors a chance to experience what life was like in 1941 Belfast, the main studio will be transformed into an interactive space with recreations of a radio studio and living room from that period.
There will also be an exhibition on the history of radio.
Visitors to the Open House week will have the opportunity to record their own war-time BBC news script and go on a behind-the-scenes tour of BBC Broadcasting House to see how television and radio programmes are made and meet BBC Northern Ireland talent and staff.
Two special events are taking place in the studio during the celebrations.
Exhibition
On Wednesday, 25 May, local historian Dr Jonathan Bardon will give an illustrated talk on the history of BBC Broadcasting House, discussing its role in the local community and relationship with the people of Northern Ireland.
To coincide with this talk an outdoor photographic and video exhibition will be projected on to the walls of the building.
On Thursday, 26 May, BBC Radio Ulster's Hugo Duncan will be holding a special tea dance-themed live broadcast from 1330 BST, with guests including Foster and Allen, Muriel Day, Billy McFarland, Ann Breen and Crawford Bell.
Peter Johnston, Director BBC Northern Ireland, said: "Broadcasting House has a long-established role at the heart of community and cultural life in Northern Ireland.
"It has been a theatre, debating chamber and meeting place - reflecting local diversity in all its different aspects for audiences at home and around the world.
"We hope that people will join us as we celebrate the history of Broadcasting House and look to broadcasting's fast-arriving digital future."
For more information about BBC Northern Ireland's Open House activities and how to join in, is available on BBC - Shows, Tours & Events.