Ballymoney man Mark McMullan faces cocaine charges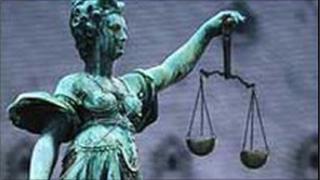 A man allegedly linked to a cocaine trafficking operation lacked legitimate income for cash purchases of a jet ski and powerboat, a court has heard.
Mark McMullan is accused of conspiracy to supply Class A drugs, three counts of converting criminal property and fraud by false representation.
He was arrested with others last month.
A press and moulds said to be capable of repressing multiple kilograms of cocaine were said to have been seized as part of the police operation.
Mr McMullan, 39, of Millfields, Balnamore, Ballymoney, was a key figure in a suspected crime gang with links to the north west of Northern Ireland and England, which police disrupted after a six-month surveillance investigation, a prosecution lawyer told the high court.
The businessman was refused bail after a judge was told his financial resources "vastly exceed" his potential earnings.
Crown counsel Conor Maguire told the court Mr McMullan, who runs a Coleraine-based upholstery business, was observed posting a parcel believed to contain cash to an address in Kent where £100,000 in cash was recovered.
He alleged that police detected "massive amounts" of phone contact between Mr McMullan and others accused of involvement in the suspected conspiracy.
Mr Maguire said Mr McMullan had paid £4,000 cash for a jet ski and then flown to England to buy a 29ft cruiser boat for £20,000, again in cash.
More than £2,000 was also spent on a gold bracelet, the court was told.
According to the prosecution Mr McMullan's bank accounts show the purchases could not have been funded by legal income.
"It's the police case and the prosecution case that this applicant leads a lifestyle which is in excess of legitimate earnings he has purported to receive," the barrister said.
"Police do believe this applicant is at the top of a pyramid in respect of criminal activity. They note that he appears to be cash rich and that is not evidenced by his accounts."
Declared annual profits for Mr McMullan's business for each of the past five years were all under £10,000, the court heard. In 2008 it made a £2,000 loss, Mr Maguire pointed out.
A defence barrister stressed that no drugs have been seized in the case, and that there was no suggestion Mr McMullan was in contact with the suspected cocaine press.
He also claimed it could not be proven that anything posted by McMullan could be linked to the cash recovered in Kent.
Ownership of the jet ski and boat were said to have been entirely legitimate investments which he planned to sell on, the court heard.
His lawyer added that police were given full details of the accountant who completed his tax-returns.
But refusing bail, Lord Justice Coghlin said the financial evidence and sending of unexplained packages pointed to a strong prima facie case of McMullan's alleged involvement.