Racing resumes at North West 200 after hoax alert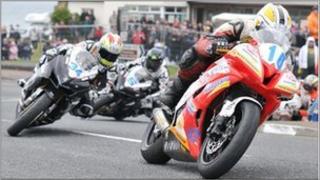 Racing has resumed at the North West 200 after a security alert was declared a hoax.
The paddock at Portstewart was evacuated for a time after a telephone warning.
Racing was suspended while police with dogs searched the area.
Race director Mervyn Whyte said the disruption was disappointing when so many people had travelled to watch the race along the coast road.
"I feel for the competitors and generally everyone who is here and who has put a lot of work into this event," he said.
"When this type of thing happens, it's annoying, particularly when things have been going so well."