Lisburn Hilden Mill fire extinguished by fire service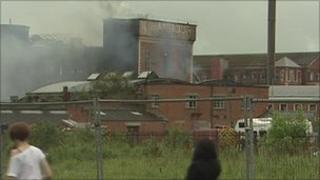 Northern Ireland Fire and Rescue Service has said it has brought a blaze at Hilden Mill in Lisburn under control.
The alarm was raised at 1230 BST on Saturday.
Brian McClintock from the Fire and Rescue Service said approximately 60 fire fighters and various appliances had been involved at the height of the blaze earlier on Saturday.
The NIFRS has yet to enter the mill to investigate the cause of the fire.