Royal Irish Regiment receive freedom of Lisburn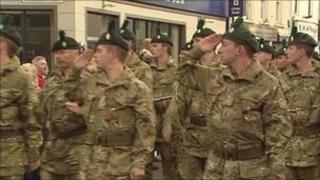 Lisburn City Council has conferred its highest honour - the freedom of the city - on the Royal Irish Regiment.
The regiment has recently completed a six-month tour of Afghanistan.
The council said the honour was in recognition of the "invaluable and distinguished service given to the nation", particularly in Iraq and Afghanistan.
After a special ceremony to confer the honour, members paraded through Lisburn city centre.
Lisburn Mayor Paul Porter said the regiment has served all over the world with gallantry and bravery.
That commitment was also acknowledged in Ballymena on Friday night when large crowds turned out to support the RIR. Members paraded in the town centre exercising their freedom of the borough.
A service of thanksgiving will take place in Belfast on Sunday, to remember the sacrifice of three soldiers from the regiment who lost their lives in Afghanistan.
Soldiers from the 2nd Battalion TA who also served in Afghanistan will exercise the freedom of Castlereagh in a parade the following weekend, before moving to Hillsborough Castle for a ceremony with their families and friends in order to receive their medals.
‪