North West 200 race 'abandoned' due to oil spill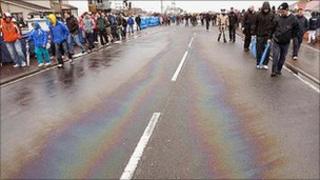 Racing has been abandoned at the North West 200 as a result of an oil spill from a bike, with just one race being completed.
After attempts to clean the course and examination by race officials it was decided that the road was still in too hazardous a condition.
A statement from race organisers said that stewards had "no alternative" but to stop racing.
The race was earlier affected by bad weather and a hoax security alert.
Carrickfergus rider Alistair Seeley was the only winner as he edged out Cameron Donald in the Supersport 600 race.
Seeley was leading Michael Dunlop in the Superbike race when it was stopped after one lap because of the oil spill.
North West 200 technical director Mervyn Whyte said the decision was "obviously extremely disappointing for everyone".
"Unfortunately the fact is that the oil spill was just too extensive to clean up to ensure an optimum level of safety for the riders," he said.
"Despite repeated efforts by the clean-up team the affected stretch of road was just still in too dangerous a condition to continue racing."
Mr Whyte said the organisers "looked forward" to running a full programme next year.