Thousands attend state funeral for Garret FitzGerald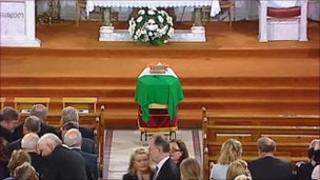 A state funeral for the former Irish Prime Minister Dr Garret FitzGerald has taken place in Dublin.
The 85-year-old died earlier this week after a short illness.
Thousands of mourners, including the President of Ireland, attended the service at the Sacred Heart Church in Donnybrook.
During his homily, Chief Celebrant Fr Enda McDonagh told the congregation Dr Fitzgerald was a "man of hope".
Fr McDonagh said that Dr Fitzgerald, who co-signed the Anglo-Irish agreement, had been able to watch part of the Queen's historic visit to the Republic.
"By some miracle of insight, grace or whatever we call it, he woke up in his final agony to see the Queen and the President on the television on that Tuesday night, 36 hours before he died.
"It was a culmination of what he had so long struggled for and we are grateful for it," he added.
Leader
Current taoiseach Enda Kenny delivered the first reading at the funeral mass.
Prayers of the faithful were read by four of his grandchildren Garret, Doireann, Aoife and Ciara, former president Mary Robinson and Peter Barry, former deputy leader of the Fine Gael party.
Dr FitzGerald was laid to rest with full military honours beside his late wife, Joan, at the Shangannagh Cemetery in south County Dublin.
He served twice as taoiseach between 1981 and 1987 at the head of two coalition governments in the Republic.
Dr Fitzgerald retired from the Dail in 1992, but still took part in political campaigns, particularly on the Nice and Lisbon Treaties.
A former economics lecturer, he was elected to the Seanad (the Irish Senate) in 1965 and the Dail in 1969.
When Fine Gael entered government in 1973, Mr FitzGerald was appointed foreign affairs minister.
He also played a leading role in the Sunningdale negotiations which led to the short-lived power-sharing executive in Northern Ireland.