Derry bomb: PSNI to release more information this week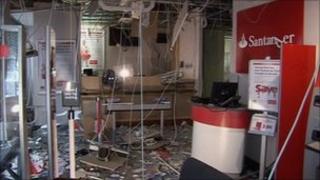 The PSNI have said they will not now be releasing more information on Monday about the bomb attack at a bank in Londonderry.
They said they may hold a media facility later this week.
Two masked men threw a holdall containing the bomb into the Santander branch in the Diamond just after midday on Saturday.
Police cleared the area and the bomb exploded an hour later. No-one was injured.
Significant damage was caused inside the building.
The PSNI said no group has claimed responsibility.
Chief Inspector John Burrows said the bomb had the potential to kill and injure.
"It was in a confined space in a glass-fronted building," he said.
"There were numerous people inside that bank when that holdall was there.
"There were numerous people walking past the glass-fronted building, and if we had not evacuated that building, we would have been looking at mass fatalities."
Mr Burrows said the alert meant that "effectively the whole city centre was closed down".
"We estimate there was hundreds of thousands of pounds of lost trade," he said.
Mass fatality
"There's a sense of anger in our city that people have came in and caused massive loss of trade, have again adversely affected people who live there and have put the lives of people at risk."
The senior officer also warned that if "this level of violence continues, one day we're going to wake-up and there's going to be a mass fatality".
"It happened in Omagh and it could happen again and if people bring bombs onto our streets, sooner or later, there's going to be mass fatalities," he said.
"We've seen that some members of the security forces have been killed, but I fear that one of these days it is going to be ordinary citizens who are going to be killed."
The Deputy First Minister Martin McGuinness paid tribute to the PSNI for acting speedily to clear the area.
"There is no doubt whatsoever that the attack that was carried out, was an attack not just on the building which was affected or the citizens who were in the building, but an attack on the entire community.
"The whole of the city was affected.
"Unfortunately we are afflicted by the fact that there is a very tiny element who believe that trying to plunge us all back into the past represents a sensible way forward.
"There is a duty and responsibility on all of us to give support to the police service so we can bring about the undermining of those who would wish to plunge us back to the past."