Mount Everest climb by County Down resident Gavin Bate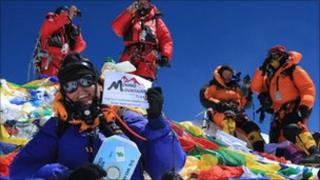 Few of us will ever manage to scale the lofty heights of Mount Everest, the summit of the world.
Still fewer will fail five times and come back for more.
But that is just what Gavin Bate, an Englishman who for the past 25 years has made Northern Ireland his adopted home, did last week.
Mr Bate, 45, failed within 250m of the summit on each of his last five attempts to conquer Everest, but at around 10.15am on Friday, he finally achieved his goal.
An experienced professional climber, Mr Bate has been leading mountain expeditions for most of his adult life.
But nothing can compare to the sensation of finally reaching the top of Mount Everest, a pleasure made even sweeter by those five failures in his wake.
"It was an amazing feeling. You can see the curvature of the Earth, the sky is black because you can see space," he said, speaking via satellite phone from his base camp in Nepal.
"Your brain can't quite compute the height that you're at. You're just beside yourself with emotion."
'No regrets'
Mr Bate's first attempt to climb the world's highest mountain was back in 2000, and since then he has overcome setback after setback to return and face what he jokingly terms his "nemesis".
Everest presents a constant danger to would-be climbers. A fact that is reinforced as during our interview, an avalanche cascades down the side of the mountain.
Fortunately, Mr Bate's base camp is far enough from Everest to be out of harm's way this time. But there was more than one occasion on which he was less fortunate, only just escaping with his life.
In 2007 he reached a height of 8600m before he suffered a pulmonary oedema (a life-threatening build up of fluid in the lungs) and subsequently contracted hypothermia.
"That was a very frightening experience, very frightening indeed," he said.
"I'm very lucky to have made it back from that one."
Yet for someone who has shown such rigid determination to come back and face mortal peril time and again, Mr Bates is surprisingly nonchalant about his previous experiences.
"At the end of the day it's just a mountain. It just happens to be a big mountain," he said.
No regrets at all for turning back those five times?
"It would be childish to think that you can just go off to any mountain in the world and summit just because you're there.
"You never regret turning back, because as long as you turn back, you come back alive, and with all your fingers and toes!"
'Selfish and pointless'
It is perhaps this attitude that best encapsulates the spirit of Mr Bate's adventures. Of course, he has an intense passion for what he does, but always has one eye on the bigger picture.
Twenty years ago he set up a charity, Moving Mountains, which carries out humanitarian and environmental work in places such as Nepal, Kenya and Borneo.
To this date, Mr Bate's Everest expeditions have raised almost $1m (£620,500) for the charity.
Again, for a passionate mountaineer who has risked his life more times than he would care to remember, his attitude is remarkable.
"The important thing to remember is that climbing Everest is a pretty selfish, pointless thing to do," he said.
"You're going away from home for 10 weeks, leaving friends and family behind to worry about you.
"If I can do it and raise money for everything that I do, it makes the whole thing a bit more worthwhile."
Slieve Donard
Mr Bates was born in England, and spent his childhood in Australia. However for the past 25 years, he has been living in Carryduff, County Down.
He is due home on 5 June, and is looking forward to some home comforts. In particular, having lost over 20lbs during the trek, he is eagerly anticipating his first Ulster fry.
One of Mr Bate's favourite activities when at home is to cycle down to Newcastle and walk in the Mournes. In fact, NI's very own Slieve Donard was his inspiration for the final stretch of his Himalayan odyssey.
Remarkably, the distance between Everest's summit and the South Col, where many climbers make their final camp, is exactly the same height as Slieve Donard.
"When I left the tent, I was thinking to myself, all I've got to do is climb the height of Slieve Donard to get to the summit of the world," he said.
"Going up I was thinking, I'm probably at the Mourne wall now, that's all I have to do."
Whether the mountains will have quite the same appeal on his return is a matter for debate, but one thing is for certain.
Having finally conquered his nemesis, he will be in no hurry to go back for round seven.