Paul Morrin fails to overturn murder conviction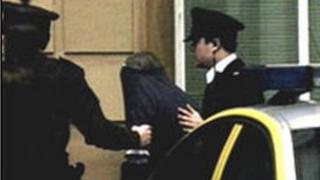 A man who was jailed for 20 years for the murder of a teenager has failed to have his conviction overturned.
The Court of Appeal rejected arguments that Paul James Morrin, 46, received a flawed trial before being found guilty.
Morrin stabbed 19-year-old Gerald O'Hagan 15 times in at his flat in Galliagh Park in Londonderry in February 2006.
Mr O'Hagan was knifed 15 times in the back and neck, severing the jugular vein, during the attack.
During Morrin's trial the court heard that he deliberately took a photograph of Mr O'Hagan's body on his mobile phone.
The Court of Appeal judges were told that Morrin had been drinking with Mr O'Hagan and another man hours earlier.
Morrin claimed to have woken in his flat, still drunk, and then found the victim's blood-soaked body lying in a bedroom.
As part of the appeal his legal team applied to have evidence admitted about a friend of the victim's who was said to have been present during events leading up to the stabbing.
It related to this third man's later convictions for threatening to kill his mother and her partner - who had provided an alibi for him on the night of the murder.
Morrin's barrister also claimed that the trial judge erred by failing to give the jury adequate assistance.
But Mr Justice Hart, sitting with Lord Justices Higgins and Coghlin, rejected claims that the trial judge had not given enough direction or assistance to the jury.
Defence attempts to have fresh evidence admitted over the third man's conviction for threatening to kill his mother also failed.
Mr Justice Hart said this conduct, while deplorable, "falls very far short of being capable of proving that he had a propensity to attack his best friend in the way the killer attacked the deceased when he stabbed the deceased 15 times".
He ruled that it was typical of the sort of verbal abuse drunken males direct at family members.
"Whilst their family undoubtedly find such utterances distressing, they do not remotely support an inference, without more, that those who utter such abuse are capable of murder," the judge said.
Dismissing the appeal against conviction, Mr Justice Hart ruled: "The forensic and other circumstantial evidence relied upon by the prosecution at the trial was extremely strong, and amounted to a compelling case that proved it was the defendant who inflicted the fatal blows on Gerald O'Hagan."