Limavady and Warrenpoint builders in administration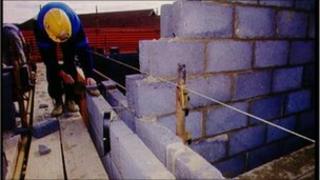 Two more Northern Ireland house builders have been placed into administration.
They are Tara Homes Ltd of Limavady and Carrick Homes Ltd of Burren, near Warrenpoint.
Carrick Homes has not filed accounts since 2007. Last year Ulster Bank appointed receivers to four of its sites in Mayobridge and Jonesborough.
Tara Homes' last set of accounts up until the end of March 2010 show it owes Bank of Ireland almost £11m.
The accounts also suggest that the shortfall between the firm's assets and liabilities is at least £5.5m.
The company had been participating in a Bank of Ireland developer mortgage scheme where the bank was offering 90% mortgages on houses in certain new-build developments.
Price bubble
The Northern Ireland housing market is in a deep recession - prices are still falling, demand is far below its peak and banks are imposing tough lending criteria.
The companies which face the greatest problems are those which borrowed heavily to buy sites at the peak of a land price bubble.
Those builders now have little prospect of ever being able to develop those sites at a profit.
On Friday, the Carvill group, which was a major developer, was placed in administration after failing to reach a deal with creditors.
In 2006 it bought the Sirocco Works site in Belfast for £40m.