Martin Strachen 'woken by hammer blows to head'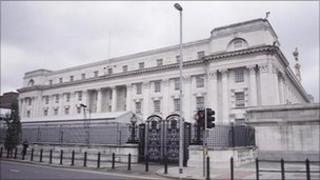 A man woke "to feel a number of heavy blows to the back of his head", Belfast Crown Court has heard.
Martin Strachen was attacked in bed at his St Kilda Court home in Belfast.
Brian William Reid, 56, of no fixed address and his son Darren Samuel Reid, 26, from Rathmore Street in Belfast are accused of trying to kill him.
They are also accused of causing grievous bodily harm with intent and aggravated burglary at his home with intent to cause grievous bodily harm.
Darren Reid is further charged with causing actual bodily harm to Mr Strachen's teenage son and with assaulting his wife Julie during the attack on 26 May 2008.
Lawyer for the prosecution Ciaran Murphy said to the jury of five men and seven women: "You have to ask yourself what was the purpose of hitting a man about the head with a hammer other than, you might think, to kill him?"
Mr Murphy told the jury that the night before the alleged attack, Mr Strachen had been drinking in a pub in east Belfast when Darren Reid verbally abused him.
The following morning, at about 0830 BST, Mrs Strachen answered a knock at the door to allegedly find the Reids there who immediately "barged" past her.
The court heard Darren Reid allegedly knocked her to the floor while his father pulled out a hammer from under his shirt.
The lawyer said Mrs Reid shouted that there were children upstairs, but was then verbally abused by Darren Reid
She ran outside to call the police and it was alleged that soon after, the pair ran out past her and drove off.
Mr Murphy said claimed Martin Strachen had been in bed when the Reids forced their way in and that he woke up "to feel a number of heavy blows to the back of his head".
He that Mr Strachen could remember his teenage son standing at the top of the stairs "screaming that he was being hit with a hammer".
Following the attack, Mr Strachen was taken to the Royal Victoria Hospital where he was treated for a depressed skull fracture and numerous lacerations, injuries which required 20 staples and three stitches.
Mr Murphy told the jury that when police searched Darren Reid's house, they seized a blood-stained top from his washing machine. He said that forensic tests later confirmed the blood had come from Mr Strachen.
Both Reids were arrested and interviewed about the allegations, but each refused to answer police questions.
"We say that at the end of the evidence you will be firmly convinced that this was simply a vicious attack on Martin Strachen with a hammer and that these defendants are guilty as they have been charged," declared Mr Murphy.
The trial, due to last until next Wednesday, continues.