Nuala Kerr hits out at son Ronan's killers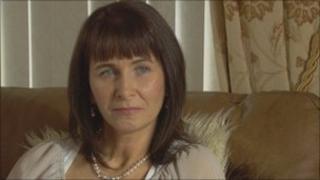 The murder of PSNI officer Ronan Kerr was a "very personal attack", his mother has said.
In her first interview about his death, Nuala Kerr told BBC Spotlight that the bomb which killed the 25-year-old was "specific for Ronan".
She said: "They obviously knew where he lived, they knew his car, and they had identified that he was a police officer.
"Somebody obviously had led them that direction."
She added: "That is very hurtful. It wasn't a random attack, it was specific for Ronan."
Constable Kerr was killed on 2 April when a booby-trap bomb exploded under his car outside his Omagh home.
He had completed his police training just three months earlier.
His funeral was considered a defining moment in the nationalist community's relationship with the PSNI.
'Irish patriot'
Police officers and Ronan's GAA clubmates joined together to carry his coffin.
His cousin, Sinead O'Kane, told Spotlight reporter Darragh MacIntyre: "Ronan, to my eyes, is the Irish patriot.
"The person who served his fellow people be it Catholic or Protestant or Muslim or Hindu, whatever. He was a true patriot in that he served others for his country."
In the programme, due to be broadcast on Tuesday night, Nuala Kerr has said Catholics should not be deterred from joining the PSNI by her son's murder.
She added that she would have liked to have seen 50/50 recruitment continue.
Mrs Kerr told Spotlight that "people can't sit on the fence anymore" on the policing issue.
"You know they have to be more decisive and they have to be more clear that they are not prepared to accept this kind of behaviour in our society," she said.
Spotlight: The Ronan Kerr Story will be broadcast on Tuesday, 24 May on BBC One NI at 22.35 BST.