Rodgers: Nelson report 'sad catalogue of failure'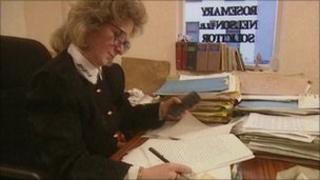 The report on the murder of Lurgan solicitor Rosemary Nelson "is a catalogue of failure," a former SDLP executive minister has said.
The inquiry report found no evidence of security force collusion.
It suggested, however, that "a rogue member or members of the security forces assisting the murderers to target her," could not be ruled out.
Brid Rodgers said it was a "very sad catalogue of failure of dereliction of duty of care by the RUC and the NIO".
NI Secretary of State Owen Paterson briefed the House of Commons on the inquiry findings on Monday.
Speaking on BBC Radio Ulster, Mrs Rodgers said everyone had been aware of police "harassment and abuse" suffered by Rosemary Nelson.
"I think it's a very sad indictment of the RUC and the Northern Ireland Office and in fact it's disappointing, at the very least, to hear the secretary of state trying to emphasise what was not in the report rather than what was in the report," she said.
"The CAJ (Committee for the Administration of Justice) and the British-Irish Rights Watch had been in touch with the NIO, and Rosemary herself made it clear she had been threatened and that she was concerned for her own safety.
'No recommendations'
"But it's very clear in this report that the NIO did not take those things seriously... In fact, they were irritated by what they were being told by the NGOs, that there was leakage of intelligence by Special Branch, that Rosemary was abused and assaulted by the RUC, that there was corporate failure by the RUC to warn her or offer her advice."
Mrs Rodgers said Secretary of State Owen Paterson had "hidden behind the fact that no recommendations" were made in the report.
"I believe that the new minister of justice has now got a duty to find out who was responsible, what person or persons bear responsibility for what happened in the failure to protect a professional lawyer," she said.
John Finucane, son of another murdered solicitor, Pat Finucane, said: "It's very sad that Rosemary received more attention internationally than she did domestically.
"Months before she was killed, she testified in Washington and stated that nobody can ever forget what happened to Pat Finucane.
"She highlighted the threats that were made against her but still nobody did anything, nobody protected her.
"Rosemary felt that if she did complain... she was legitimised as a target and she did try to go public and despite her best efforts, still she received no help, no advice and her death was very much preventable."
Paul Murphy, who was secretary of state in 2004 when the inquiry was launched, said changes had been made since, such as including lawyers on protections schemes.
"We need to learn lessons... Had things been done differently, it's quite possible Rosemary Nelson might be alive today," Mr Murphy said.
The public inquiry has found that state agencies did not directly collude with loyalists who murdered the Lurgan solicitor in 1999.
Secretary of State Owen Paterson, however, told the House of Commons on Monday that there were failings in the measures taken to protect the lawyer.
He said that the government was "profoundly sorry" for these failures.
Mrs Nelson's family said the report showed that the response to threats to her was "inadequate and inefficient".
Loyalist paramilitary group, the Red Hand Defenders, claimed responsibility for killing her in a booby-trap bomb attack near her home.