Michael McGleenon must serve five years at Carstairs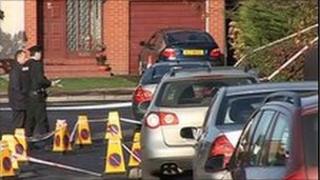 A 37-year-old man who pleaded guilty to the manslaughter of his father on the grounds of diminished responsibility has been jailed for a minimum of five years.
Michael Philip McGleenon, from Shannon Clinic, Saintfield Road, Belfast, pleaded guilty in April.
His father Michael, 75, was found at his home off the Old Portadown Road, Lurgan on 12 November 2009.
Mr McGleenon will serve his sentence at Carstairs Hospital in Scotland.
The court was told during his trial that McGleenon made a number of 999 calls to police in Lurgan on 12 November 2009.
He told police his father was dead, that he was mentally ill and had just been released from a psychiatric unit at Craigavon Area Hospital.
The police forced entry into the house and discovered the body of McGleenon's father, Michael Joseph McGleenon, on the floor of the upstairs bedroom.
Violent attack
He had 19 stab wounds to his chest and a considerable number of superficial piercing injuries on his back suggestive of the light prodding with a knife.
The pathologist concluded that he had been subjected to a very violent and prolonged attack.
Evidence was presented that McGleenon started to develop serious paranoid persecution delusions around 2005.
He was admitted to a psychiatric unit in Munich where he lived at the time.
He returned to live in Northern Ireland in 2008 and medical records showed that he was admitted to a psychiatric unit here on two occasions.
McGleenon was prescribed anti-psychotic medication, but the court heard that on several occasions in October and November 2009 it was noted that he was not taking his medication.
He killed his father a few days after being released from hospital.
Treatment
Mr Justice Hart referred to two psychiatric reports presented to the court which concluded McGleenon suffered from a well documented and increasingly severe psychiatric condition.
The judge said that the medical evidence suggested that it is not possible to say whether McGleenon will be fit to be released from prison, and if so when, except that even if the treatment envisaged is successful it is likely to take at least five years from the time he is transferred to the State Hospital in Carstairs.
The success of the treatment will be dependent upon McGleenon agreeing to take, or being compulsorily subjected to, the administration of medication.
Mr Justice Hart said that if McGleenon is released at some time in the future and he does not take his medication, there will be a real risk that he could again develop the persecutory and paranoid beliefs about others which not only led to the tragic events culminating in his father's death, but which he also developed in relation to other people in the past.
Mr Justice Hart said in order to protect the public from the consequences of this, he was satisfied that there would be a continuing need for some form of compulsory medical oversight or continuing review of McGleenon's medical condition after any release from custody.
Mr Justice Hart concluded that the most appropriate type of sentence in this case was the imposition of an indeterminate custodial sentence.
Mental illness
Mr Justice Hart emphasised that McGleenon would only be released when or if the parole commissioners are satisfied that it is appropriate to release him in the light of the way in which he responds to the medical treatment he will receive at Carstairs.
The judge also expressed concern that legislation has not yet been put in place which would allow remand prisoners suffering from severe mental illness to be transferred from Northern Ireland to Carstairs.
He said this would permit them to receive appropriate treatment in a high security hospital while awaiting trial.
At present they have to be sentenced before they can be transferred to receive treatment.
"Defendants who commit serious crimes because they suffer from grave mental illness do not attract public sympathy, but it is most unsatisfactory that years after the gap in the necessary legislative provisions have been identified steps have not yet been taken to enable remand prisoners to be transferred to institutions such as Carstairs," he said.
"I hope that the necessary authorities will give this continuing problem the early attention it deserves."