Belfast council hold emergency meeting over rule change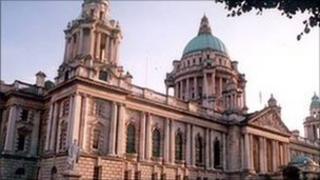 Belfast City Council is to hold an emergency meeting over how committee representatives are chosen.
Under the D'hondt system committees are allocated to the largest political grouping.
Sinn Fein are now the largest party but unionist parties have formed a pact to make them the biggest group.
At Tuesday's meeting Sinn Fein are seeking to change the wording so power is divided by the largest party and not the largest grouping.
The special meeting will take place at 1630 BST on Tuesday to discuss the proposal
According to council documents the meeting will consider the deletion of the current standing order and replace the words "political groupings", "political groups" and "groups" with the words "political parties" or "parties", as appropriate.
Following the council election Sinn Fein overtook the DUP as the largest party, they now hold 16 seats. The DUP have 15 councillors.
It is believed the DUP, the PUP's two elected members and independent councillor Frank McCoubrey have signed up to the work under a unionism umbrella.
But with six seats the Alliance Party ultimately hold the balance of power. It is unlikely they would allow anything to happen which would see nationalists excluded from holding posts.
Last week SDLP group leader on Belfast City Council, Tim Attwood, said the party was opposed to the proposed unionist carve up in City Hall.
"The attempt by the DUP, UUP and independent unionist to form a political group is an abuse of democracy," he said.
"On 5 May 2011, the people of Belfast voted for the political parties to represent them in City Hall. The mayor and committees should be allocated on the basis of a party's electoral strength based on proportionality."