GAA official Ryan Feeney joins Policing Board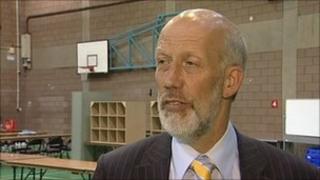 A senior GAA official has been appointed to the Policing Board.
Ryan Feeney is head of community development, strategy and public affairs at the Ulster Council.
He is one of nine independent members of the board appointed by the Justice Minister David Ford, along with 10 assembly members.
Mr Feeney said he wanted to make it clear that he is taking on the role as a private citizen.
"I'm not going to be a GAA representative on the board," Mr Feeney said.
"But I have support from the leadership at Ulster level and the central level of the GAA - they're very supportive of the decisions I have taken.
"But I've made it very clear to them that this is a civic role, it's not a political role."
The MLAs who have been appointed are: the DUP's Robin Newton, Jonathan Craig, Adrian McQuillan and Ian McCrea; Sinn Fein's Gerry Kelly, Caitriona Ruane and Pat Sheehan; Ross Hussey, UUP; Conall McDevitt, SDLP and Trevor Lunn, Alliance.
The independent members are: Anne Connolly, Ryan Feeney, Stuart MacDonnell, Gerry O'hEara, Joan O'Hagan, Brian Rea, Brian Rowntree, Michael Wardlow and Deborah Watters.
Mr Ford said "The Northern Ireland Policing Board performs a crucial role in holding the chief constable and his officers to account, ensuring that the PSNI is effective, efficient and responsive to the needs of the community.
"Effective policing has to be informed by the different voices across the entire community," he said.
"The wide variety of background and experience represented by the political and independent members on this new board will ensure that all interests are taken into account."