A political party by any other name...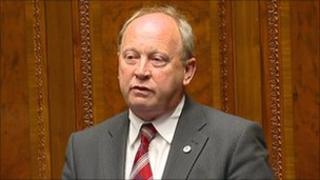 What's in a name? Quite a lot, apparently, if you are a member of the Northern Ireland Assembly.
Jim Allister, MLA for North Antrim, has informed Speaker William Hay he wanted Northern Ireland to be described solely as Northern Ireland in assembly debates.
The Traditional Unionist Voice member was responding after being told to avoid "personalising remarks" when referring to assembly colleagues and their parties.
Mr Allister had been chided by the speaker last week for his somewhat unparliamentary reference to Sinn Fein MLA Gerry Kelly as "Bomber" Kelly, a reference to the North Belfast member's conviction for blowing up the Old Bailey during the Troubles.
His refusal to utter the words "Sinn Fein'' without adding the suffix "IRA," has also caused irritation amongst some members.
Martin McGuinness was believed to be another target for Mr Allister's ire when the TUV leader complained: "We are denied the opportunity to debate that proposition, particularly in circumstances where one of those is a self-confessed terrorist commander."
Mr Hay, serving a second consecutive term as speaker, was moved to remind members of parliamentary etiquette.
"Members will know that I was very strong on that issue in the house in the last mandate," he said.
'Tagging names'
"When members rise in their place to address the house, they certainly should not personalise remarks to any other member.
"Also, when it comes to referring to political parties in the chamber, political parties should be known and referred to as what they are registered as with the assembly. I do not want members tagging names on to political parties in the house."
Mr Allister, however, refused to be silenced and, in a change of tack on Monday, he demanded that in debates Northern Ireland be referred to only as Northern Ireland.
This was taken to be a reference to the inclination of some members to use terms such as, the "six counties," "the north" and the "north of Ireland".
Mr Allister told the speaker: "Last Monday, at the beginning of proceedings, you gave direction on the use of proper names.
"In light of that ruling, I invite you to consider the logical and necessary extension of that approach to references in this house to the state of Northern Ireland so that the proper name - namely that of Northern Ireland - is used on all occasions.
"If it is right to use proper names in respect of parties and what are perceived to be their proper names and in respect of individuals, is it not also necessary to use the proper name 'Northern Ireland' rather than the slights and slurs that are used so often?
"I ask you to consider that and rule upon it."
Mr Hay was not to be rushed into a decidsion and reiterated his points from the previous week.
"On the other issues that the member mentioned," he said, "let me take them away, consider them and come back to the member."