Shakin' Stevens appeals Ballymena assault conviction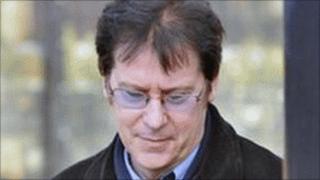 Former pop star Shakin' Stevens has begun an appeal against his conviction for assaulting a photographer and smashing his camera.
The singer, real name Michael Barrett, was convicted last year over the incident at a gig at the Tullyglass Hotel in Ballymena in December 2008.
He was fined £300 for assault and criminal damage and ordered to pay £479 compensation for smashing the lens.
Mr Barrett is expected to attend the appeal at Ballymena County Court.
'Embarrassing'
On Tuesday, a prosecution lawyer claimed that Mr Barrett deliberately intended to cause harm or was reckless that photographer Hugo McNeice would be harmed or his equipment damaged when he hit out with a microphone stand.
Mr McNeice explained how he had been asked by his local newspaper, the Ballymena Times, to photograph the Welsh-born singer, but that when he went to the hotel, the concert had already begun.
He said after positioning himself by the side of the stage he "fired off a few frames" to attract Mr Barrett, who then began to move towards him, stand in hand.
"He was singing away, performing and I thought I would get a few nice photographs," Mr McNeice said.
"Next thing, the microphone stand came down towards the lens. Then it banged the camera and the back of the camera hit my head.
"I stopped photographing. It was quite embarrassing and I put the camera down and looked up at him and walked out into the foyer."
He added that it was not until the next day when on a fresh assignment that he realised the camera lens had been damaged and was now useless.
'Words are irrelevant'
Later under cross-examination by a defence lawyer, the photographer accepted that what happened could have been a simple accident.
"Accident or not, it happened," he added.
Mr McNeice denied that in the days following the incident, he had exaggerated what happened for effect.
He agreed that he had "joked" about what had occurred, both in private with friends and publicly, including on the lunchtime BBC Radio Ulster show "Talkback".
On the show, played to the court, presenter David Dunseith was heard joking with Mr McNeice, who admitted he was "a fan (of Shakin' Stevens) and always will be".
Mr McNeice told the court that the "words are irrelevant as to what happened - my camera hit my head with force".