NI flights returning to normal as ash cloud clears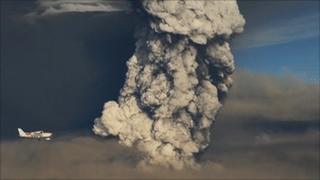 A cloud of ash from the latest Icelandic volcano to erupt has cleared and flights are returning to normal.
On Tuesday, several flights from Northern Ireland to Scotland and northern England were cancelled.
The ash dispersed overnight and NI airports said they expected operations to return to normal later on Wednesday.
No flights have been cancelled at the three Northern Ireland airports. However, passengers should still check with their airline before leaving home.
The Irish Aviation Authority said all Irish airports remained open, but that some European destinations may be affected with the possibility of disruption of flights to and from Ireland.
Debra Harris from Belfast International Airport said: "The ash cloud appears somewhat to have dissipated across the UK meaning that operations are pretty much back to normal.
"The best advice is still to check with your airline, just in case there are knock-on delays from some of the disruption on Tuesday."
The majority of affected flights in NI have been to and from airports in Scotland and the north-east of England.
A number of flights from City of Derry Airport were also cancelled.
Despite later cancelling its flights, the Irish carrier Ryanair claimed it had made a test flight through ash over Scotland and challenged a ruling some flights should be grounded.
Ryanair said its 90-minute flight at 41,000ft showed there was "no visible volcanic ash cloud or evidence of ash on the airframe, wings or engines".
The company said the "red zone" over Scottish airspace where ash has been classified "high-density" was invented by the Met Office and the Civil Aviation Authority (CAA).
But a CAA spokesperson said: "The CAA can confirm that at no time did a Ryanair flight enter the notified area of high contamination ash over Scotland this morning."
BBC transport correspondent Richard Scott said the CAA confirmed Ryanair were being, at best, "misleading".
The cancellations come just over a year after another volcanic eruption in Iceland caused widespread disruption across Europe, including the closure of UK airspace, amid concerns about the damage volcanic ash could cause to engine aircraft.
This year, in the UK, the decision on whether to fly or not in ash cloud conditions is down to individual airlines subject to aviation authority approval.
The CAA said procedures were "totally different" to last year and although no airlines had applied to fly in high-density ash, some had applied for, and been given, permission to fly in medium ash.
The Grimsvotn volcano in Vatnajokull National Park began erupting on Saturday and closed Iceland's airspace for a period.
Experts say the eruption is on a different scale to the one last year and ash particles are larger and, as a result, fall to the ground more quickly.