Nelson Inquiry: Ford to answer questions over NIO staff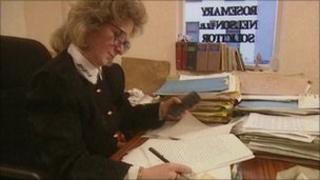 The SDLP and Sinn Fein have demanded an investigation into whether NIO officials criticised by the Rosemary Nelson Inquiry are now working in the Department of Justice.
The inquiry said that the Northern Ireland Office did not press the RUC hard enough for responses to questions over the solicitor's personal security.
Some officials transferred to the Department of Justice last year.
Justice Minister David Ford is to meet MLAs over the issue on Tuesday.
Mr Ford said he answered only for his own department.
"Where staff may have worked prior to the creation of the Department of Justice is not an issue for the minister," a department spokesperson said.
The inquiry's report said that there was no direct collusion between state agencies and those who murdered the Lurgan solicitor in 1999.
It also concluded that there were failings in the measures taken to protect her, with NIO officials criticised.
'Mechanistic approach'
Among their shortcomings, the report added, was a "mechanistic" approach to correspondence from non-governmental organisations raising concerns about Rosemary Nelson's safety.
SDLP justice spokesperson Alban Maginness said he had concerns that the justice department was "direct rule in drag".
He said: "You have to remember that many of these officials transferred over at the point of devolution of justice and I think it's important for us to question whether the same personnel exist at different levels within the Department of Justice.
"Were they culpable in some way in relation to the events surrounding the circumstances in which Rosemary Nelson was murdered?"
He said it was "undesirable that people should be transferred lock, stock and barrel from the NIO to the justice department."
"Is this going to be a form of direct rule within the terms of devolution? Are we having direct rule in drag?"
On Wednesday, Sinn Fein MLA John O'Dowd said the inquiry had criticised some NIO civil servants.
"The public need to hear answers from the justice minister about where these individuals are now," he said.
"I will be seeking reassurance from David Ford firstly that the very significant failings identified by the Rosemary Nelson Inquiry will never be repeated and secondly that those responsible (for failings) are no longer in a position to repeat the disgraceful conduct outlined in the report."