Nuala Kerr recalls news of attack on son Ronan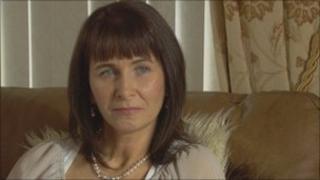 The family of murdered PSNI officer Ronan Kerr has spoken of the moment when they became concerned that he may have been attacked.
In her first interview since his murder, his mother Nuala Kerr said she had talked to her son on the phone just a short time before he was killed.
When another son, Aaron, heard news of a car bomb he asked his mother to call Ronan again to check he was safe.
Aaron said she then tried to call Ronan back, but could not get through.
Mrs Kerr told the BBC Spotlight programme: "I was getting increasingly concerned. Then my house phone started to ring and friends were ringing to see if I was ok.
"And another neighbour Kate rang to see was everything alright, was Ronan ok?
"I said 'What do you mean?' and she said that there was stuff on Facebook - there was a comment on 'Please Ronie - don't say it is you'."
'So much to offer'
Mrs Kerr said she wished those who killed her son in the April bombing "could see the person that Ronan was".
"If they had known Ronan for five minutes and known the person he was and known what he stood for - he had so much to offer."
She said that she appreciated the support given to her family by the GAA which held an unprecedented joint guard of honour with PSNI officers at her son's funeral.
"I just felt it is the way forward. That we are all in this together. And that they need to stand firmly together," she added.
She said that she wanted young Catholics to continue to join the PSNI.
"I still feel if that's the kind of job they want to do, don't be put off. You know, we need a police force - every country needs a police force."