PSNI photographic appeal into Ronan Kerr's murder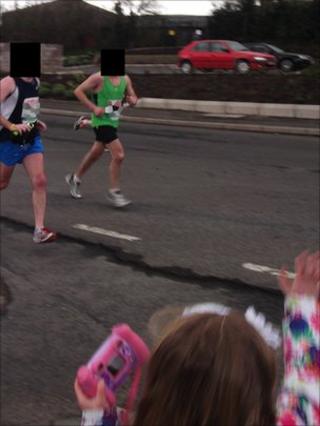 Police investigating the murder of Constable Ronan Kerr have issued an appeal for photographic material.
The 25-year-old was killed when a device exploded as he drove his car from his home in Omagh on 2 April.
The PSNI want anyone who took photos or videos in the area around the Highfield development while the half marathon was taking place to contact them.
They are especially interested in material taken between 1315 BST and 1345 BST.
The officer leading the investigation, Detective Superintendent Raymond Murray, said: "As part of our initial appeal for information we issued a photograph that was taken that Saturday to show the indiscriminate nature of the device which had been placed under Ronan's car just yards away from the half marathon course.
Arrests
"Now we are asking everyone with photos or video footage taken in the Highfield area during that half hour to help us. If you can give it to us, we will look at it and decide whether it is important to the investigation."
Three men and a woman have been arrested in connection with Mr Kerr's murder.
One man has been charged with possession of items likely to of use to terrorists and possession of firearms and explosives with intent.
Police have also revealed more information about their investigations into his murder.
More than 30 searches have been conducted of both areas and properties in NI, Republic of Ireland and Scotland.
Tens of thousands of hours of CCTV material have been seized.
Questionnaires
More than 4,000 items have been seized during searches. These items are now being examined in forensic laboratories in Northern Ireland, Republic of Ireland and England.
Detectives have visited 780 houses and completed 1,160 questionnaires of people living in these houses.
Detective Superintendent Murray said: "This is going to be a long and protracted investigation.
"But we have been encouraged by the co-operation which we have received from virtually everyone with whom we have engaged and heartened by their willingness to provide whatever information they have.
"Our inquiries are widespread and wide-ranging and we are examining links to other attacks and serious crimes but it would not be appropriate at this time to go into further detail."