Newry firm First Derivatives enjoys profit increase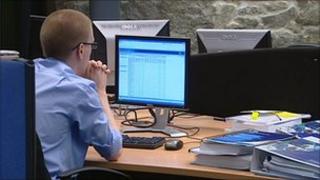 The Newry software company First Derivatives has announced increased annual profits.
Pre-tax profits were up 15% to £6.5m while revenues jumped by 44% to £36.7m.
The company provides software and consulting services to investment banks and hedge funds.
Chief Executive Brian Conlon said the company has made a strong start to the current year and expects to be able to report further progress.
"The past year has been one of further building and proving our software assets," commented the company's chairman David Anderson.
"Software product launches will continue to occur in the first half of the current year and we expect to follow this with sustained marketing in the second half as we aim to capitalise on investments made," he added.
In March First Derivatives said it was to create almost 360 jobs.
The posts are due to be filled over the next three years. It will bring the total workforce at the company to 900.
First Derivatives provides computer software and consultant services to global investment banks and hedge funds.
Invest Northern Ireland has provided £4.3m to help fund the expansion.
The company is seeking to fill 347 new consultancy and operations posts and 12 managerial positions.
First Derivatives currently employs over 500 people worldwide and counts many of the world's top investment banks, brokers and hedge funds as its customers.
It has operations in London, New York, Stockholm, Singapore, Toronto, Sydney, Dublin and Hong Kong.