Car 'driven over officer's foot' after east Belfast raid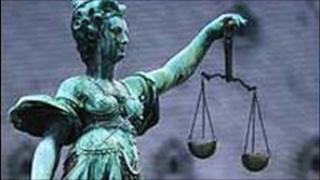 A policewoman's foot was run over during an attempted tobacco heist, the High Court has been told.
She was injured as one of the suspects tried to escape the scene of the disrupted raid on an east Belfast newsagents, prosecutors said.
One of those accused of involvement faces charges of attempted robbery, attempted murder and conspiracy to rob.
He was granted compassionate bail to visit his elderly grandmother who is in deteriorating health.
A crown lawyer claimed George Glen Campbell, 31, of Dunvegan Street, had driven three other men who tried to rob a delivery van at a newsagents on the Cregagh Road on March 2.
Significant injuries
It was claimed that after police in the area intervened a car used by the gang mounted the footpath and was driven deliberately at a female officer.
Tessa Kitson, prosecuting, said the vehicle went over her foot, causing significant injuries, before it was brought to a halt.
She said police believed the attempted heist was planned from the inside.
Mrs Kitson told the court it was discovered that one of the co-accused was the manager of the bonded cigarette warehouse.
Claiming Mr Campbell may attempt to interfere with witnesses if released, she added: "The bond delivery driver is approaching retirement and quite a vulnerable person.
"Police beliefs are that this robbery was planned in such a way, knowing who would be driving the vehicle, it would be much easier to carry out because of the inside information."
A defence barrister stressed Mr Campbell was only seeking temporary release to visit his 90-year-old grandmother.
"The applicant wishes to spend some time with his grandmother while she is still capable of understanding who he is and enjoying some quality time with him."
Granting compassionate bail, the judge ruled that Campbell could be released for a period on Thursday.
Mr Justice Hart ordered the accused to put up two £1,000 sureties, banned him from contacting a co-accused or using any telephones.