Baggott offers McGurk's Bar relatives a meeting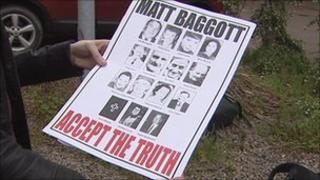 The PSNI chief constable has again offered to meet relatives of those killed in the McGurk's bar bombing.
The IRA was initially blamed for the UVF attack which killed 15 people in Belfast in 1971.
A police ombudsman's report published in February said the RUC had been guilty of investigative bias. Mr Baggott questioned that finding.
Some of the relatives staged a protest outside the Policing Board on Thursday, calling on him to clarify his position.
They had welcomed the ombudsman's report and said they had been vindicated by it.
Their mood changed when Mr Baggott questioned the findings and said other reports had not found any evidence of bias.
The chief constable later had a private meeting with the relatives and promised to get back to them about their concerns.
In a statement, the relatives said they had mounted Thursday's protest because they did not want any further delays.
"What we do want to hear from the chief constable is if he now accepts the report of the Police Ombudsman," the statement said.
"No ifs or buts or excuses. And no more delays - delays which have only exacerbated the trauma felt by the relatives."
Arriving for a meeting of the board this afternoon, Mr Baggott said it was "important" that he examined the report as "thoroughly as possible".
"Three months is not an unreasonable amount of time when you have a report of such nature and such complexity," he said.
"So my offer to meet with the families very much remains, one that I made at the time and I would repeat that again."
The relatives, however have said they are not interested in a further meeting with the chief constable unless it is "to hear a substantive response to the problems he has or now has not with the Police Ombudsman's report".