Children had "lucky escape" in Derry blast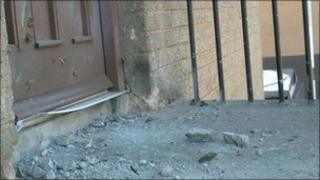 A senior police officer said children had a "lucky escape" after an explosion in the Brandywell area of Londonderry.
It happened on the Lecky Road just after 2300 BST on Thursday.
Police said damage was caused to properties, but no one was injured.
Chief Inspector Jon Burrows condemned the attack. "These explosive devices, no matter how small they are, can maim and kill and we're fortunate this morning that no one was injured."
He said police were investigating what happened and "detectives are piecing together a timeline and trying to establish a motive, and we'll be talking to witnesses".
Mr Burrows said the bombers showed no regard for the community.
Traumatised
"Young children getting a night's sleep before going to school and people who were last night sleeping before they had to go to work were literally put at risk.
"They will feel that trauma for the days and weeks to come so the people who leave these devices and walk into people's homes and threaten them don't care for the local community who suffer most in all of this," he said.
Foyle MLA Martina Anderson visited the scene on Thursday evening.
She said that she was amazed nobody was hurt in the attack and said it was unclear who or what was the target.
"There was shrapnel that went in through the window of a bedroom," she said.
"In that bedroom, thankfully, there was no one asleep at the time.
Blast
"However in the adjacent window there was a two-year-old baby in a cot and had the shrapnel went through that window, that family at this moment in time are devastated thinking about what could have happened."
BBC Radio Foyle reporter Teresa Craig spoke to one resident who had a bedroom window smashed by shrapnel from the blast.
"She told me she has no idea why it happened, that she doesn't keep well, that her husband doesn't keep well and they are both deeply traumatised by this incident," she said.
"The lady also said her young grandchild was in the house at the time and she's just happy that he wasn't hurt or injured."