Derry traders urged to be vigilant after bank bomb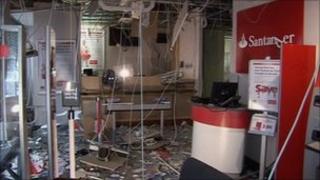 A senior police officer has warned business owners in Londonderry to regularly check their premises for suspicious objects following a bomb attack on a city centre bank.
Extensive damage was caused to Santander in the Diamond when two masked men threw a bomb into the building in May.
No one was injured in the blast.
Area Commander Chief Inspector Jon Burrows said he believed there could be similar attacks.
"It is imperative that businesses remain vigilant," he said.
"If something looks out of place, or even just raises concern, contact your local police immediately. Never touch or attempt to move any suspicious looking objects.
"Regularly review security measures and check premises thoroughly both during and after trading. An extra few minutes could make the difference.
"Make sure all staff members are familiar with evacuation plans and regularly trained in relation to all safety procedures. By working together we are better able to keep staff and customers safe and protect local trade."
Businesses lost out on hundreds of thousands of pounds worth of trading when the city centre was evacuated to deal with the bomb attack on the bank.
There has also been a series of bomb alerts in the city in recent months.
Londonderry Chamber of Commerce and the City Centre Initiative said it was important traders worked with the police to keep the city safe.