Belfast school to represent UK at UN environment awards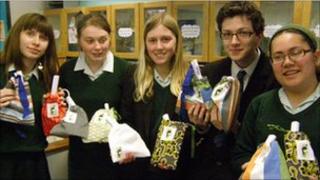 A school from Northern Ireland will represent the UK at the final of a prestigious environmental award.
Pupils from Grosvenor Grammar School were chosen after a tough competition across more than 60 countries.
Their winning project consists of a herb and vegetable garden in the grounds of the school, designed to make the school canteen totally self-sufficient in vegetables and herbs.
The final of the Volvo Adventure Award takes place in Sweden on 8 June.
It is an international event, in partnership with the United Nations Environment Programme, and is currently in its 10th year.
The Northern Irish pupils will be fighting it out with 11 other schools from Argentina, China, the USA and many more.
Big ideas
Contestants will take part in a number of environment workshops, before presenting their projects to a panel of expert judges.
Before the projects are rewarded, they must have proven their credentials and achieved a significant impact on their local communities.
The winning team will receive £10,000 to invest in the sustainability of their programme, which will go down very will with the Grosvenor pupils, who have big ideas to syndicate their "Think Globally Eat Locally" concept across other schools.
Sixth former Michael Stevenson, 16, said: "We're really excited to be going to Sweden. It's a good chance to meet other people from around the world."
He said he would be treating the trip as a mixture of business and pleasure, and was philosophical about his team's chances.
"We'll still be working on our vegetable garden and trying to get more people involved even if we don't win," he said.