Anglo Irish move against Belfast developer Lanark Homes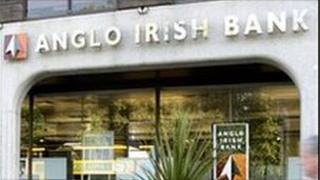 Anglo Irish Bank has moved against another Northern Ireland developer, appointing a receiver to five properties in Belfast and Bangor.
The properties were controlled by the Belfast-based firm Lanark Homes Ltd.
The company last filed accounts for the year ending May 2009, showing a retained loss of more than £400,000. Those accounts also indicate that the bank is owed around £4m.
Lanark Homes built houses mainly in north and west Belfast.
The properties placed in receivership are sites on the Shankill Road, Merkland Place off the Springfield Road and at Glenbryn Park.
The two Bangor properties are at Ranfurly Avenue and Maxwell Road.
The company remains in control of all its other assets.
The failed Anglo Irish Bank loaned hundreds of millions of pounds to property firms in Northern Ireland.
The bank is now state owned and most of its loans have been transferred to the Irish government's National Asset Management Agency.